Taxidermist in Columbia Falls, MT
Alpine Custom Taxidermy is an owner-operated exotic taxidermy service with more than two decades of professional experience. We specialize in African, Asian and North American big game mounts, helping hunters preserve their proudest trophies. Our dedication to your mount shines through in stunning detail and realism. If you're in Columbia Falls, Whitefish, or Flathead County, MT, contact us today for rates on wildlife mounts.
We use only the best materials the industry has to offer, including tanning.
Our abilities also include life-sized dioramas. Our attention to detail brings your full-sized mount to life in stunning clarity and natural splendor.
Our work is award-winning in many states as well as Nationally, with a National Champion!
Each piece is custom sculptured to enhance the animal's best features and anatomical accuracy.
We personalize every mount. This means your trophy won't look like any other one out there—it's totally unique to you.
Big Game Taxidermy Services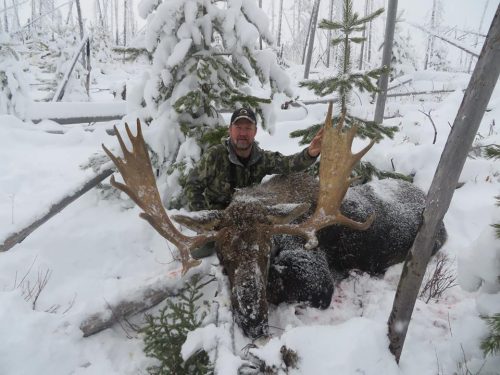 When you bag a once-in-a-lifetime trophy, there's no feeling in the world that compares. You want that feeling to live on forever and thankfully, through professional, exotic taxidermy in Montana, it can. Mark Stanley and the experts at Alpine Custom Taxidermy want to help you preserve your prize with stunning realism and authenticity, with a head or shoulder mount that's unique and simply beautiful. We'll make something you're proud to hang on your wall and something you can point as proof each time you regale your friends and family with the story.
Alpine Custom Taxidermy is devoted to the discriminating hunter, who appreciates excellence from his taxidermist. Unlike other taxidermists in Montana, we don't mass-produce wildlife mounts or churn out the same boring pieces. As an owner-operated shop, all work is overseen by Mark, to ensure that quality is maintained throughout the process. We'll make sure the finished piece is a personal testament to your hunting prowess and a visual reminder of that special day and your perfect shot.
Our abilities as taxidermists include antelope, bighorn sheep, mountain goats, bears, cougars, lions, leopards, wolfs, crocodiles, elk and a host of other mammals from around the world. We especially welcome African and Asian trophies. Contact us today for more information about immortalizing your mount, or check out our field prep guide!
Celebrate Your Trophy
Once you bag that once-in-a-lifetime trophy, all that's left to do is mount it.
Let Alpine Custom Taxidermy make sure it's immortalized in all its glory.
Providing custom quality exotic taxidermy to Columbia Falls, MT, and surrounding communities:
Coram, MT
Martin City, MT
Kalispell, MT
Whitefish, MT
Essex, MT
West Glacier, MT
Somers, MT
Flathead, MT
Polebridge, MT
Olney, MT
Lakeside, MT
Stryker, MT
Kila, MT
Eureka, MT
Lincoln County, MT
Sanders County, MT
Lake County, MT
Glacier County, MT
Pondera County, MT
Teton County, MT
Lewis And Clark County, MT
Great Falls, MT
Bozeman, MT
Billings, MT
Helena, MT
Browning, MT
Flathead County, MT